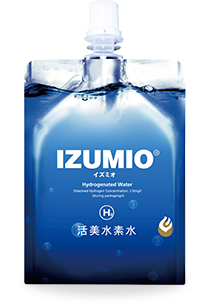 Naturally Plus Global (NPGL) is excited to announce the official launch date for IZUMIO Water in China, is 10th February 2017!

Hydrogen is one of the indispensable elements in all of existence. The golden product "IZUMIO WATER" is a beverage manufactured by dissolving a high concentration of hydrogen in mineral water. Taking hydrogen in your daily life never becomes so easy.


To express our appreciation and sincerest gratitude to all your tremendous support, NPGL would like to launch a special campaign for you.

Due to the system maintenance on 9 Feb 2017, the launch date of Izumio Water will delay to 10 Feb 2017.
We apologize for any inconvenience caused

IZUMIO Water launch date: 10th February 2017
Campaign Period: 10th February – 10th May, 2017
During the campaign period, NPGL members will be able to enjoy:

① Buy 1+5 IZUMIO Water Starter Pack, get extra gift 1 box IZUMIO Water, total 8 boxes *1
② Buy 1+11 IZUMIO Water Starter Pack, get extra gift 2 box IZUMIO Water, total 16 boxes. *1
③ The delivery charge of gifts will be free of charge *2 .
*1 Extra Gift cannot be exchanged.
*2 Kindly to inform you that the shipping fee of IZUMIO Water would be charged. For details, please refer to NPGL website.
Don't Miss this opportunity!


More information of IZUMIO Water will be uploaded to NPGL website on 10th February 2017.
http://www.naturally-plus.com/gl/en

We hope that you will like it and look forward to your ongoing support.


If you have any questions about becoming a Naturally Plus distributor, please contact us from 【Contact Form】.
One of our representatives will reply as soon as possible.

【CONTACT US】http://www.naturally-plus.com/gl/en/others/contact/
【Business Hour】09:30am~06:30pm
【Business Day】Weekdays
※Closed on Saturdays, Sundays and public holidays (Based on Hong Kong's calendar)